WHAT'S INCLUDED?
MTB Kit:
2 x 25g co2 cartridges
1 x Inflator Head
1 x Closed Base Freeze Protector Sleeve
Road & Gravel Kit:
2 x 16g co2 cartridges
1 x Inflator Head
1 x Closed Base Freeze Protector Sleeve
 FEATURES
Unique, compact, straight-line design for maximum airflow
Simply push down to inflate - Release to stop
Unique closed base silicone Freeze protector sleeve prevents your hands from freezing, even without gloves
Manufactured from 6061 aluminium
Available in 12x Chris King colours
WHY USE C02 INFLATORS OVER HAND PUMPS
IF THE HOLE IN YOUR TYRE IS SO BIG THAT SEALANT CAN'T SEAL IT, YOUR TYRE WILL LOSE ALL AIR PRESSURE AND, MOST OF THE TIME, THE TYRE BEAD WILL POP OFF THE BEAD SEAT ON THE RIM, CREATING AIR GAPS ALL THE WAY AROUND THE TYRE BEAD. AS ANYONE WHO HAS SET UP TUBELESS TYRES BEFORE WILL KNOW, GETTING ENOUGH AIR INTO THE TYRE TO POP THE TYRE BEADBACK ONTO THIS BEAD SEAT ISN'T EASY, EVEN WHEN YOU'RE IN THE COMFORT OF YOUR HOME WORKSHOP, NEVER MIND OUT ON THE TRAIL WITH A GROUP OF IMPATIENT MATES - OR WORSE - MID RACE.
A LOT OF PEOPLE CARRY MINI HAND PUMPS WITH THEM, AND THEY'RE GREAT FOR RE-INFLATING SMALL AMOUNTS ON THE TRAIL AFTER SLIGHT PRESSURE LOSS, BUT YOU'D NEED FOREARMS LIKE POPEYE TO RE-SEAT YOUR TYRE WITH ONE! WITHOUT DOUBT, THE QUICKEST AND EASIEST WAY TO GET YOU BACK RIDING WHILE OUT ON THE TRAIL IS WITH A CO2 INFLATOR. Not only do they get you back up and riding again much quicker than a hand pump, they are much smaller and easy to carry with you on your ride.
DESIGNED FOR DURABILITY
Made from CNC'd 6061 aluminium, and with a patent-Pending valve design, the details of Peaty's inflator heads have been agonised on - from the exact rubber compound of the o-rings to the awesome chris king anodized colours.
STRAIGHT LINE IS THE FASTEST LINE
Our straight line, compact design enables faster airflow for rapid inflation, and creates less stress on your tubeless valves when you're using it because you're coming at the valve straight on rather than at a 90 degree angle.
From Flat to inflated in less than 20 seconds!
NO GLOVES, NO PROBLEM
Not stopping at the inflator head, we applied the same level of detail and quality in making a high quality CO2 cartridge sleeve. far from a cheap strip of neoprene, our freeze protector sleeve is made from temperature resistant silicone and has a unique closed base to stop your hand from freezing to the cartridge, no matter how you hold it - even without wearing gloves.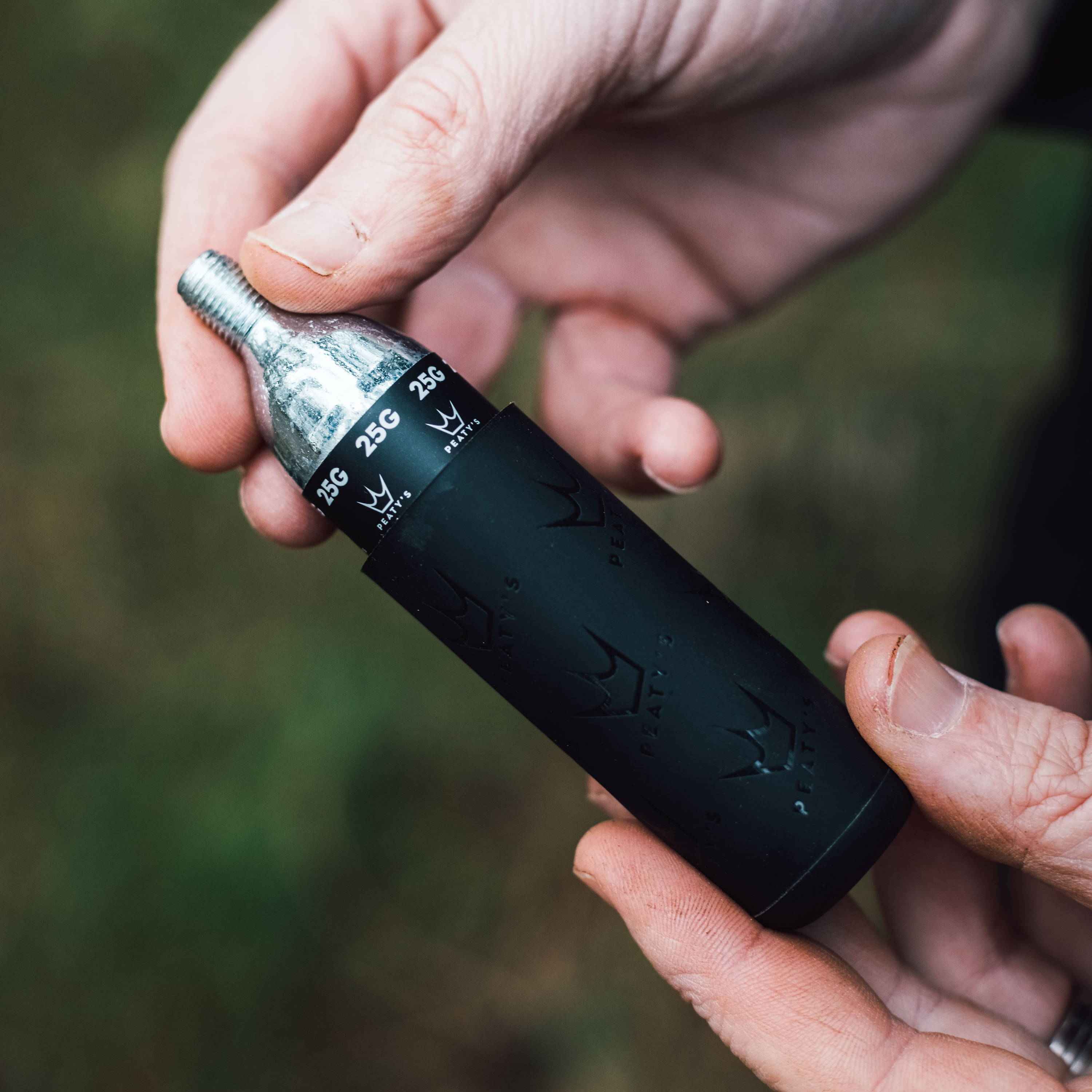 REMOVE VALVE CAP AND LOOSEN THE VALVE CORE. CHECK THE VALVE IS CLEAR BY PRESSING DOWN THE LOOSE VALVE CORE. YOU SHOULD HEAR AIR FLOWING THROUGH THE VALVE

COVER THE CO2 CARTRIDGE WITH THE CLOSED-BASE FREEZE PROTECTOR SLEEVE PROVIDED

SCREW THE CO2 CARTRIDGE FULLY INTO THE INFLATOR HEAD. YOU may HEAR A SMALL HISS WHEN THE CARTRIDGE IS SUCCESSFULLY PIERCED. If not, give the valve a quick press and you should hear gas 'tsssst' out

PRESS THE HEAD OVER THE VALVE AND PUSH STRAIGHT DOWN FIRMLY TO DISCHARGE THE CARTRIDGE AND INFLATE THE TYRE TO YOUR DESIRED PRESSURE. RELEASING THE INFLATOR HEAD WILL STOP THE FLOW

ONCE THE TYRE IS INFLATED, REMOVE THE INFLATOR, RE-TIGHTEN THE VALVE CORE AND RE-APPLY THE VALVE CAP

RIDE!